February 8, 2018
Spicy Chicken & Avocado Wraps
Space…the final frontier. Well, the episode this recipe was paired with was a space-themed episode – and while the closest any of us will get to space is playing a space-themed board game or sitting back and watching Star Trek on television – I thought we should do some variation of space food. I read about what foods astronauts eat in space and I learned some interesting things! You know that dehydrated ice cream they sell at museums that kids just LOVE to eat? Well astronauts don't actually get to eat that stuff in space! It was taken into space once and it did NOT turn out well! It was never taken to space again, but it sure is popular as a "space food" here on planet Earth!
They DO really like to eat spicy sauce because the sense of taste is reduced due to fluid redistribution in the body and a spicy sauce can reactivate taste buds. They also eat a lot of tortillas and wraps because they don't result in a lot of crumbs. So, I decided to select a spicy wrap for the recipe for this episode. Of course, they wouldn't be able to eat this wrap in space…but we can sure enjoy it on a day of space-themed board gaming! – Jondi
If you make these wraps, pose pictures and tag us!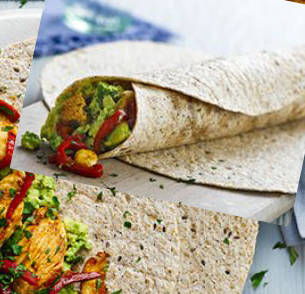 | | |
| --- | --- |
| | |
Mix the chicken with the lime juice, chili powder and garlic.
Heat the oil in a non-stick frying pan then fry the chicken for a couple of mins – it will cook very quickly so keep an eye on it. Meanwhile, warm the wraps following the pack instructions or, if you have a gas stove, heat them over the flame to slightly char them. Do not let them dry out or they are difficult to roll.
Squash half an avocado onto each wrap, add the peppers to the pan to warm them through then pile onto the wraps with the chicken, and sprinkle over the coriander. Roll up, cut in half and eat with your fingers.
**Recipe from Good Food Magazine
About The Author