December 19, 2017
Orange Spritz Cookies
I love making spritz cookies – these are the kind of cookies you make using a cookie press. They're pretty easy to make. It took me a while to get the hand of the cookie press. I've been making them for years now, but I have to admit that at first – my spritz cookies really didn't resemble anything. They just kinda looked like blobs. Now, the first few years I made spritz cookies, I make plain ones. Then I discovered this recipe. I never looked back. They're so good. I love just the little extra twist it adds to the little cookies! When you make these cookies, you don't have to do anything else to them, but I like to decorate them with colored sugar. It just gives them a touch of color that makes them extra Christmas-y!
If you make these cookies, post pictures and tag us! I'd love to see them! (Even if your first attempt is a little blobby! Remember, mine were too! And here's a secret, mine still never turn out as pretty as all the pictures. But they still taste great!) -Jondi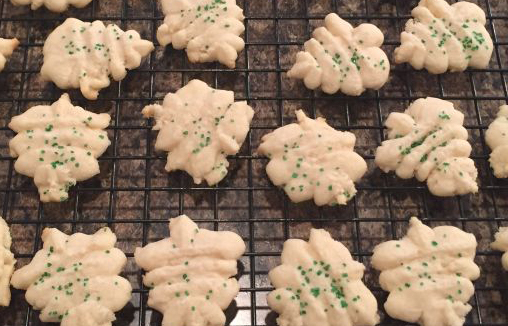 | | |
| --- | --- |
| | |
In a mixing bowl, cream the butter, cream cheese and brown sugar.

Beat in orange peel and extract.

Combine flour and salt; gradually add to creamed mixture.

Using a cookie press fitted with the disk of your choice, press cookies 1 in. apart onto ungreased baking sheets.

Sprinkle with colored sugar. Bake at 375° for 6-9 minutes or until lightly browned.

Cool for 2 minutes before removing to wire racks.
About The Author