June 7, 2017
Eat Chit & Dice – Episode 10 – Geekway Roundup and Spiel des Jahres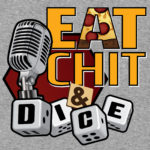 I am aware that St. Charles is technically a different city than St. Louis proper, but try explaining that to people that have never been anywhere near there.
Too many games: https://boardgamegeek.com/collection/user/tyam
Check out Daft Concepts! https://www.etsy.com/shop/DaftConcepts
Kickstarter
Zombicide: Green Horde
Manhattan Project 2: Minutes to Midnight
Minerva
H.E.A.D. Hunters
Hand of Fate: Ordeals
| | |
| --- | --- |
| | |
Cut off any excess fat from the short ribs and thinly slice the beef and cut into bite-size pieces.

Place in a large bowl or in a plastic resealable bag.

In a blender or food processor, blend the soy sauce, mirin, sugar, sesame oil, garlic, scallions and ginger.

Pour half of the sauce over the short ribs. Make sure all the meat is covered fully.

Seal tightly and marinate the short ribs in the refrigerator for at least 3 hours and up to 24 hours.

Place the other half of the marinade in a pan and reduce over medium heat, stirring occasionally, until the mixture is thick.

Place in a serving bowl and reserve to drizzle on the tacos.
For the Korean Style Slaw
Place the cabbage, daikon, cilantro and scallions together in a medium to large bowl. Toss.
For the Soy Lime Dressing
In a small bowl, whisk together the lime juice, soy sauce, mirin and Sriracha (leave the sriracha out if you want the tacos to be less spicy, or use less). Slowly whisk in the olive oil. Place the dressing in the fridge until ready to use.
Heat your griddle to high. Flash cook the meat while simultaneously caramelizing the marinade. Place your short ribs on the griddle. Cook for 2 to 3 minutes and flip. Cook an additional 3 minutes, then wrap the meat in foil and set aside.

Grill up your tortillas. Flip after 45 seconds. Grill for another 45 seconds and remove.

On the grilled tortillas, pile some Korean slaw, dressing, beef, reserved and reduced marinade and extra Sriracha to taste.