July 5, 2017
Eat Chit & Dice – Episode 12 – Gateway Games/Gaming with non-Gamers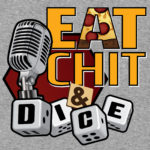 Happy Birthday America!  We're talking about how to get your non gaming friends into the hobby, maybe a day too late.  Oh well!
Kickstarter
Top Secret: New World Order – the Espionage Roleplaying Game
Kingdoms of Erden: King of the Mountain
We also featured a special burger recipe from one of our Twitter followers!
[ultimate-recipe id="212″ template="default"]