July 5, 2017
Eat Chit & Dice – Episode 12 – Gateway Games/Gaming with non-Gamers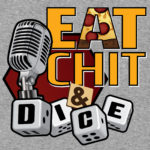 Happy Birthday America!  We're talking about how to get your non gaming friends into the hobby, maybe a day too late.  Oh well!
Kickstarter
Top Secret: New World Order – the Espionage Roleplaying Game
Kingdoms of Erden: King of the Mountain
We also featured a special burger recipe from one of our Twitter followers!
| | |
| --- | --- |
| | |
Bring a pot of water to a boil; add ramen noodles. Boil, stirring occasionally, until noodles are tender, about 3 minutes. Drain. Allow noodles to cool slightly.

Beat 2 eggs in a bowl; season with salt and pepper.

Stir noodles into eggs until evenly coated. Divide noodles into 6 burger-size ramekins or bowls.

Place a sheet of plastic wrap directly over noodles and stack another bowl on top to flatten noodles. Refrigerate until firm, about 20 minutes.

Mix beef, soy sauce, and sesame oil in a bowl.

Divide beef mixture into three equal portions and shape into patties.

Heat about 1 tablespoon vegetable oil in a large skillet over medium-high heat. Invert each ramen bowl, gently tapping the bottom of the bowl until ramen loosens, careful to maintain bun shape.

Fry each ramen bun, without moving noodles, in hot oil until golden brown, about 3 minutes. Flip each bun and continue frying until crisp, 3 to 5 minutes more. Ramen bun should be crispy on one side and slightly softer on the other. Transfer buns to large plate with the crispy side up.

Pan fry or grill the hamburger patties to your preference and dress each burger with lettuce, tomato and onion (and any other condiments as desired).