August 16, 2017
Eat Chit & Dice – Episode 16 – Games We Buy and Never Play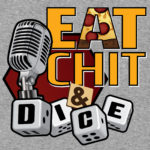 Jondi sorta had a stroke at the 21 minute mark but other than that, the episode was fine.  We're on our way to GenCon (actually by the time this goes live we're already there) so this is a fluff piece.  Enjoy!
Check out Professor Shyguy here: http://professorshyguy.com/
DinoGenics: Dinosaur Park Management and Corporate Intrigue
Before The Earth Explodes: A retro sci-fi card game
Reaper Miniatures Bones 4: Mr. Bones EPIC Adventure!
Ogrezine – The Ogre Magazine
| | |
| --- | --- |
| | |
Place the orange zest into a saucepan and add water to cover; bring to a boil and cook 5 minutes. Strain the zest through a mesh strainer and return to the saucepan along with 1/2 cup white sugar and 1/4 cup of water. Return to a boil, then reduce heat to medium-low; cook, stirring constantly, until the water has evaporated. Allow to cool until lukewarm.

Preheat an oven to 350 degrees F (175 degrees C). Grease and flour a 9x5 inch loaf pan.

Whisk the flour, baking powder, and salt together in a bowl; set aside. Whisk the egg and 1 cup of sugar in a bowl. Stir in the butter, milk, and cooled orange zest until blended; stir in the flour mixture until just moistened then pour into the prepared loaf pan.

Bake in the preheated oven until a toothpick inserted into the center comes out clean, 55 to 65 minutes. Cool in the pan for 10 minutes before removing to cool completely on a wire rack.