August 30, 2017
Eat Chit & Dice – Episode 17 – Episode 50! Gencon 50 Wrap-up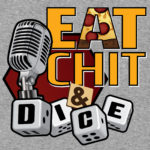 Mostly this is just us talking about some of the games that we bought at Gencon that we are excited about, as well as a few new kickstarters.
We'll also have a special live episode going up in the next couple of days as a special!
Kickstarter
Now Boarding
The Brigade – The Boardgame of Fantasy Firefighting
Vegas Wits & Wagers
Unstable Unicorns
| | |
| --- | --- |
| | |
Peel and cut up one ripe red dragon fruit bite size cubes.

Peel and segment one ripe mandarin orange.

Squeeze lime juice, or use lime juice already squeezed from store

Peel and cube one kiwi into bite size cubes.

Mix all ingredients in kosher salt.

Refrigerate for ten minutes and serve.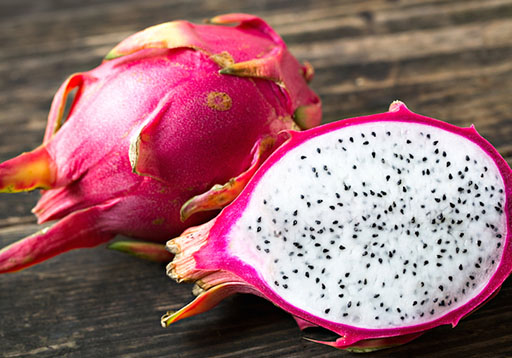 | | |
| --- | --- |
| | |
Prepare rice according to package directions.

Drain pineapple; reserve 1/4 cup juice.

Peel and cut dragon fruit into bite sized cubes.

Stir together, in small bowl, reserved juice, water, 1/3 cup soy sauce, 1 tablespoon cornstarch, red pepper (if desired) and garlic powder; set aside.

Combine chicken with remaining 1 tablespoon each cornstarch and soy sauce, in medium bowl.

Heat oil in wok or nonstick large skillet over medium-high heat. Add chicken and stir-fry 4 to 5 minutes or until lightly browned; remove. Add broccoli, bell pepper, carrot and ginger; stir-fry 4 minutes or until just tender. Add reserved soy sauce mixture and chicken; cook, stirring, 2 to 3 minutes or until sauce boils and thickens. Stir in pineapple chunks and dragon fruit and heat through. Serve over rice.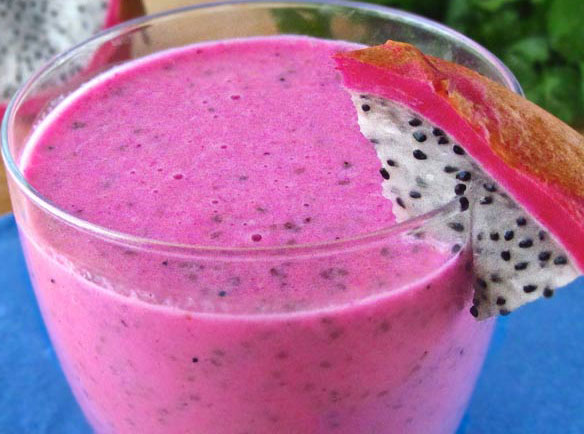 | | |
| --- | --- |
| | |
Mix all in a blender and garnish with a slice of Dragon Fruit.