September 27, 2017
Eat Chit & Dice – Episode 19 – Lunch Time Games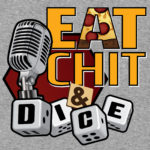 We're going to talk about a few games that you can play with your coworkers during an average 30 minute lunch break. Oh, you wanted to eat food on your lunch break?
The Legend of Korra: Pro-bending Arena
Consentacle: A Card Game of Human-Alien Intimacy
Someone Has Died – a silly game about serious business
Cerebria – The Inside World
http://eatchitanddice.com/extralife2017
| | |
| --- | --- |
| | |
Cook the udon noodles according to the package directions, drain and set aside.

In a large saucepan, bring the stock to a boil. Lower the heat to medium and add the carrots and cook until the carrots are crisp-tender, 1 to 2 minutes. Add the snow peas and cook until slightly tender but still bright green, about 1 minute. Add the mushrooms, cook for 30 seconds and remove from the heat.

Spoon the miso in a medium bowl and add a ladleful of hot broth. Whisk until the miso is completely dissolved, then pour the entire miso mixture into the pot with the soup. Do not boil the soup with the miso, as the miso will become gritty. Stir in the noodles and the green onions.