October 11, 2017
Eat Chit & Dice – Episode 20 – Family Games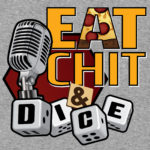 What is a family anyway? What's a family game? We THINK they're games you can play with your family, but some of the best rated family games are only for 2 players? What the heck?
Near and Far: Amber Mines
Dice Hospital – a 1-4 player game. Roll, Treat, Discharge!
Starfinder Masterclass Miniatures
http://eatchitanddice.com/extralife2017
| | |
| --- | --- |
| | |
In a shallow dish, combine pancake a cornmeal mixes, milk and egg. Mix well and set aside.

In a large skillet, heat oil over medium heat until hot but not smoking. (Or of you have a deep fryer, you can use your deep fryer for this.)

Place hot dogs lengthwise on each skewer. Roll hot dogs in pancake mixture, coating completely.

Place coated hot dogs in skillet (or in deep fryer) and cook for 1-2 minutes (or until coating is a golden brown color).