October 25, 2017
Eat Chit & Dice – Episode 21 – Halloween Games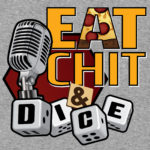 Three out of one hundred is not five percent.  We're getting spooped by Mr Skeltal in these games that are perfect for playing during your Halloween parties.  Ghosts and ghouls and also charity.
http://eatchitanddice.com/extralife2017
Kamigami Battles: A Reimagining of Kanzume Goddess
Munchkin Starfinder
Root: A Game of Woodland Might and Right
| | |
| --- | --- |
| | |
Preheat oven to 300 degrees F (150 degrees C).

Toss seeds in a bowl with the melted butter and salt. Spread the seeds in a single layer on a baking sheet and bake for about 45 minutes or until golden brown; stir occasionally.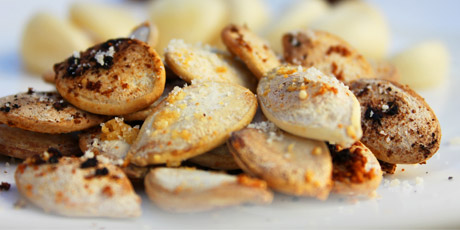 | | |
| --- | --- |
| | |
Lay clean, dry pumpkin seeds flat on baking sheet and drizzle with cooking oil of your choice. Sprinkle the pumpkin seeds with a coarse salt.

Bake the seeds at 350F for 5-10 minutes, or until the seeds have just started to brown.

In a bowl, combine the melted butter, garlic powder, pepper and grated Parmesan. Add toasted pumpkin seeds to bowl and toss to coat.

Put coated pumpkin seeds back in oven and continue to bake for another 5 minutes.

Remove from oven, let cool and enjoy!
This recipe is the one I've used before. It is from Food Network.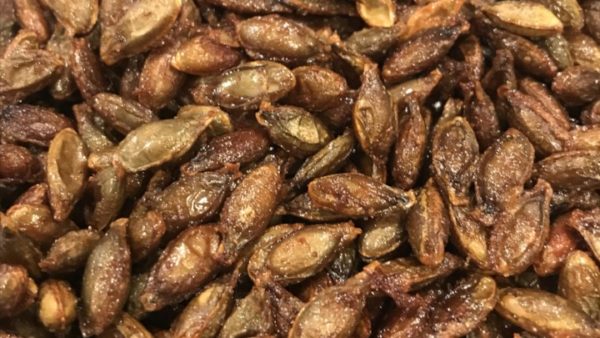 | | |
| --- | --- |
| | |
Preheat oven to 275 degrees F (135 degrees C).

Stir pumpkin seeds, whiskey, bacon drippings, brown sugar, and 2 teaspoons salt together in a saucepan over medium-low heat. Bring mixture to a simmer and cook until the seeds begin to turn gray in the middle, 15 to 20 minutes; drain.

Spread the drained seeds onto a baking sheet in a single layer; season with salt.

Roast the pumpkin seeds in preheated oven until crisp and golden brown, 60 to 90 minutes.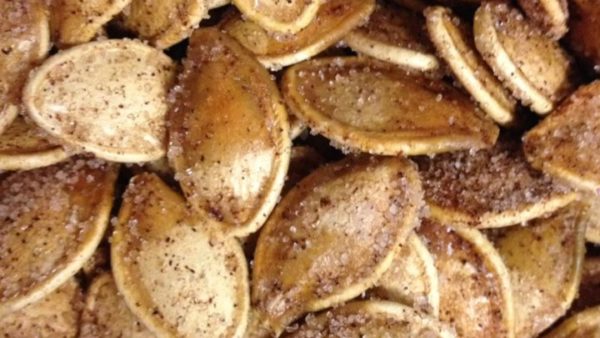 | | |
| --- | --- |
| | |
Preheat oven to 300 degrees F (150 degrees C).

Mix butter, cinnamon, and salt together in a bowl.

Place pumpkin seeds in a large bowl and pour butter mixture over seeds; toss to evenly coat. Spread coated seeds in a single layer onto a baking sheet.

Bake in the preheated oven, stirring occasionally, until seeds are lightly browned, about 40 minutes. Remove baking sheet from oven; sprinkle sugar over seeds and stir until evenly coated.