January 3, 2018
Eat Chit & Dice – Episode 26 – Out with the Old, In with the New – 10x10s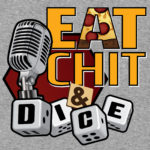 New year, new 10×10.  We're running through our 2017 and 2018 10x10s.  Check out or 2018 games at our website, http://eatchitanddice.com/2018-10×10/
Follow along on our progress through the year as we once again try to play 100 games.
Jared (knowingly) didn't rebalance the audio to sound good with the new microphones, so they sound really dry!  Do you think this will get fixed for the next episode?  Place your bets now!
Kickstarter
Story Time Cards: A Collaborative Storytelling Card Game
ATK! A SPINNING MINIS MOBA STYLE BOARD GAME
| | |
| --- | --- |
| | |
1. In a large soup pot, heat heat coconut oil over medium-high heat. Add onion and cook, stirring occasionally, until onion is soft and translucent. Add garlic and cook until fragrant, about 30 seconds.
2. Add butternut squash, carrot, pumpkin puree, vegetarian broth, apple juice, honey, curry powder, cinnamon, pumpkin pie spice and salt and pepper. Bring to a boil, cover and lower to a simmer. Cook about 15 minutes, until the butternut squash is fork tender. Use an immersion blender or a regular blender to blend in batches until smooth. Transfer back to the pot and stir in heavy cream. Heat through.
3. Garnish with pumpkin seeds before serving.