May 23, 2018
Eat Chit & Dice – Episode 36 – Made for TV Movi-I Mean Board Games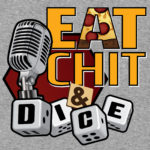 There are so many board games based on TV shows but 85% of them are space or sci-fi TV shows. Jondi is dying in this episode, which is our first episode recorded "on-the-road" with the new "mobile studio," aka we put all of the equipment in a mobile studio rack and now I can carry a 300lbs box around yay.
Table for Two – Dark Crystal mini review
Put a large stock pot of salted water on the heat set at medium high.

Wash and peel the potatoes then cut into 1 1/2 inch cubes and put in the stockpot. When the water begins to boil set a timer for 10 minutes.

Break the toast up into chunks and put in a food processor. Pulse until you have chunky breadcrumbs. Add them to a prep bowl with the milk to soak a few minutes then set in a colander and squeeze to drain.

Put the Sirloin in a large mixing bowl. Add the parsley, garlic, onion, egg, Worcestershire Sauce, and the drained breadcrumbs. Mix with your hands gently and form 6 equally sized Salisbury Steaks. Dust each side with the seasoned flour and set on a rack to rest.

In a large heavy bottom skillet add the grapeseed oil and bring to medium heat. Fry each Steak undisturbed 5 minutes on each side and return to the rack covered with foil.

When the potatoes are fork tender, turn off the heat, dump the stockpot contents into a colander to drain. Put the pot back on the range adding the stick of butter. Return the cooked potatoes back to the same pan on top of the butter. Mash the potatoes with a potato masher and add the heavy cream as you work. When the mash reaches the desired texture set aside.

Put another small stockpot to boil with 2 cups of water. When the water is at full boil add the peas. Turn off the heat and set aside.

In the skillet bring the heat back to medium add the mushrooms and cook until they give up all their liquid about 3 or 4 minutes or so. Add 2 tablespoons of the seasoned flour mixture and stir to cover all the mushrooms. Cook until the flour starts to brown then add the beef stock and scrape the bottom of the skillet with a wooden spoon while the gravy thickens.
To Serve:
Think of the plate as a clock face. Put a Salisbury Steak at 6 o'clock, a heap of mash at 10 and a scoop of peas at 2. Cover the steak with the mushroom gravy.