February 15, 2017
Eat Chit & Dice – Episode 2 – Games Gone Wrong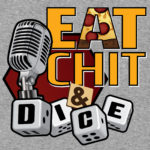 One of my favorite phrases is "you never play a game correctly the first time."  But 20 times?  We have a recipe, we talk Kickstarters, and the Golden Geek Awards.  We also issue some corrections, for the first of many, many, many, many times!
Episode links:
Jared's Kickstarter: https://www.kickstarter.com/profile/tyam
Golden Geek Awards: https://boardgamegeek.com/geekawards/boardgame
Crokinole BGG Entry: https://boardgamegeek.com/boardgame/521/crokinole
Kickstarter
Macroscope
| | |
| --- | --- |
| | |
In a skillet over medium heat, brown the ground chuck, drain.

Stir in onion, bell pepper and garlic. Cook five minutes.

Pour the ground chuck mixture into the crock pot and add the kidney beans, tomatoes, chicken brother and pumpkin puree. Stir together.

Slowly add the tomato juice until you reach your desired thickness.

Add Pumpkin Pie Spice, Cumin, Chili Powder and granulated sugar. Stir. (Add more to taste)

Turn crock pot on high and cook for 4 hours.

Turn crock pot down to low or warm and let simmer.

Serve and enjoy. I like to mix my chili with sour cream, cheese and crackers!
To make your own pumpkin puree: select a pumpkin of any size. Preferably a good sized pumpkin if you wish to yield more than one or two dishes from it. The puree freezes well and can be used over the year. Preheat the oven to 325 degrees. Cut the pumpkin in half from stem to base. Remove seeds and pulp. Cover each side with foil and bake for 1 hour or until tender. Scoop out the meat of the pumpkin and puree in a blender. Strain to remove any additional pulp. Puree can be stored in the freezer in freezer bags or plastic containers.