April 12, 2017
Eat Chit & Dice – Episode 6 – Dexterity Games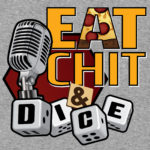 Important topics from this week's episode: My Peppino is ready, What happened to Donkey Kong Jr. (Who Was Good at Math)?, and other amazing topics that aren't dexterity games!
Also listen to this episode for information about our International Tabletop Day Live Stream!
NOTE: The next episode will be DELAYED due to ITTD.
Kickstarter
Gloomhaven 2nd Print
Floor War: Vampires vs Unicorns
| | |
| --- | --- |
| | |
Preheat oven to 350 degrees.

Spray 6 (9-inch) cake pans with nonstick cooking spray (or bake 2 at a time if you don't have 6 cake pans)

Line bottoms of pans with parchment paper, and spray parchment paper with nonstick cooking spray.

Beat shortening and sugar until creamy.

Add buttermilk, molasses, egg, and vanilla, beating well.

In a medium bowl; combine flour, ginger, baking soda, salt, cinnamon and nutmeg.

Slowly add the flour mixture to the wet mixture; mix until combined.

On a lightly floured surface, form dough into a log; cut into 6 equal portions.

Place 1 portion in each prepared pan, and use finger to lightly pat dough to edges of pans. NOTE: This dough is more like cookie dough than it is like cake batter.

Bake for 10 to 12 minutes or until lightly browned. (be sure not to let it get too brown)

Remove from pans, and cool completely on wire racks

Place 1 cake layer on a serving plate or cake stand; spread with fruit butter filling

Repeat with remaining layers and fruit butter filling, stacking each on previous layer.

Do not spread fruit butter filling on top layer.

Cover and refrigerate cake for at least 24 hours.

Just before serving, dust with confectioners' sugar.
You can make your own, using this wonderful recipe from Lady Behind the Curtain (http://www.ladybehindthecurtain.com/slow-cooker-apple-butter/) OR buy your favorite jar or Apple Butter from the store (This is what Jondi has done).

Just before serving, dust with confectioners' sugar.