March 13, 2019
Eat Chit & Dice – Episode 57 – Mobile Hotfix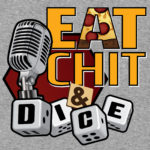 Jondi went out west on the Oregon Trail so we're talking about games that you can play when you only have your phone, just like the settlers did in the 1800s! Are app versions of board games the future, or just a weird gimmick? Probably a little of both.
Jondi wanted me to plug her usernames on these in a easy list.
She's Jondi77 (Cottage Garden), GingerJondi (Small World, Evolution), Nerdgirl_Jondi (Through the Ages)
Please add her and play!