April 29, 2017
Eat Chit & Dice – Episode 7 – International Tabletop Day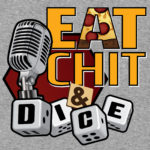 Our Tabletop Day retrospective, with some weird audio that I was too tired to fix.  Next episode as scheduled!
Our Friends:
https://www.twitch.tv/warzonevincent
http://www.simplyfun.com/pws/KSilliman/tabs/playologist-home.aspx
Kickstarter
Petrichor
Morels Foray: the Morels Expansion
Rayguns & Rocketships
Pour your milk into the jar (use as much milk as you would normally put in your coffee).

Shake for 30-60 seconds - until milk is all froth and bubbly.

Place in microwave for 30 seconds.

The froth will rise to the top of the milk and the heat from the microwave will stabilize it.

Use the warm milk as you wish.
While coffee is brewing, froth milk (eatchitanddice.com/recipes/frothy-milk/)

Fill 3/4 of a second mug with frothy milk

Slowly pour chocolate syrup into center of milk froth

Slowly pour the coffee into the center of the milk froth