May 10, 2017
Eat Chit & Dice – Episode 8 – Game Con Primer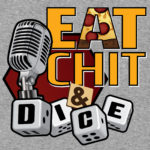 We talk about some DO'S and DON'TSES for board game conventions.  And also life in general.  Plus Jondi actually made recipes.
Kickstarter links:
XYbrid Pre-Order if you missed the Kickstarter – https://bored-leisure-co.myshopify.com/
| | |
| --- | --- |
| | |
In a large bowl, combine Corn Chex, Rice Chex, Wheat Chex, Cheerios, Peanuts and Pretzels

In a small bowl, combine Olive Oil, Worcestershire Sauce, Seasoned Salt and Garlic Powder.

Pour olive oil mixture over cereal mixture and toss to coat.

Spread mix to two 15-in. x 10-in. x 1-in. baking pans coated with cooking spray.

Bake at 250 degrees for 1 hour, stirring every 15 minutes.

Cool completely on wire cooling racks and store in airtight container.
| | |
| --- | --- |
| | |
In a large bowl, combine the Cheerios, Corn Chex, Salted Peanuts, M&M's and Mini Pretzels. Set aside.

In a microwave-safe bowl, heat 2 packages (12 ounces each) of White Chocolate Baking Chips and Canola Oil at 70% Power for one minute, stirring once. Microwave on High for 5 seconds, or until smooth.

Pour melted white chocolate over cereal mixture. Mix well.

Spread onto 3 wax paper-lined baking sheets. Let Cool. Break apart. Store in airtight container.