May 24, 2017
Eat Chit & Dice – Episode 9 – Top Games We Like with Mechanics We Don't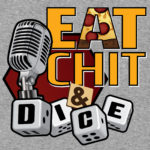 Today we're talking about playing games with people who have jobs fixing cars.  Oh, wait, that's wrong.  Sometimes games can be really good but have a mechanic that otherwise we would hate.  That, I think, makes the game even more special.  We also totally didn't post any video content from Geekway.
For what it's worth, Improved D Total looks pretty cool.
http://www.gamescience.com/D-Total-Black-with-White-Numbers_p_171.html
Origins awards: http://www.originsawards.net/current-origins-awards-nominees/
Kickstarter
Moa
Frutti di Mare
| | |
| --- | --- |
| | |
Pulse the cranberries in a food processor or blender until coarsely chopped (alternately, you can do this task by hand, but it is a real pain in the butt. Seriously, you don't want to do this by hand).

Add the green onions, cilantro, jalapeno, sugar, cumin, lemon juice and salt and pulse until the ingredients are well combined and finely chopped.

Transfer the mixture to a covered bowl or tupperware and refrigerate for 4 hours (or up to overnight) so the flavors have time to develop and the cranberries lose a bit of their tartness.

When ready to serve, spread the cream cheese in an even layer on a serving plate or 9-inch pie dish. Top with the cranberry-jalapeno mixture, spreading evenly over the top of the cream cheese.

Refrigerate for up to an hour before serving.

Serve with crackers or tortilla chips.